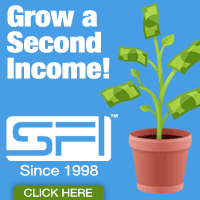 SFI just hit the major milestone of ONE MILLION AFFILIATES! CONGRATULATIONS to every affiliate who played a part in helping SFI reach this lofty number! Isn't it incredible what can be done when we all work together?!
And yet
SFI
still just getting started.
TripleClicks
is barely an infant.
Pricebenders
is even younger yet. And there is so, so, so much more to come for TripleClicks, for Pricebenders, for SFI.
Indeed, the sky's the limit and the best is yet to come!